Welcome Waxpool Pirahnas!

Register to JOIN THE PTA to receive notifications about news, fundraising events and opportunities to volunteer in our school.
ORDER YOUR YARD SIGNS NOW!!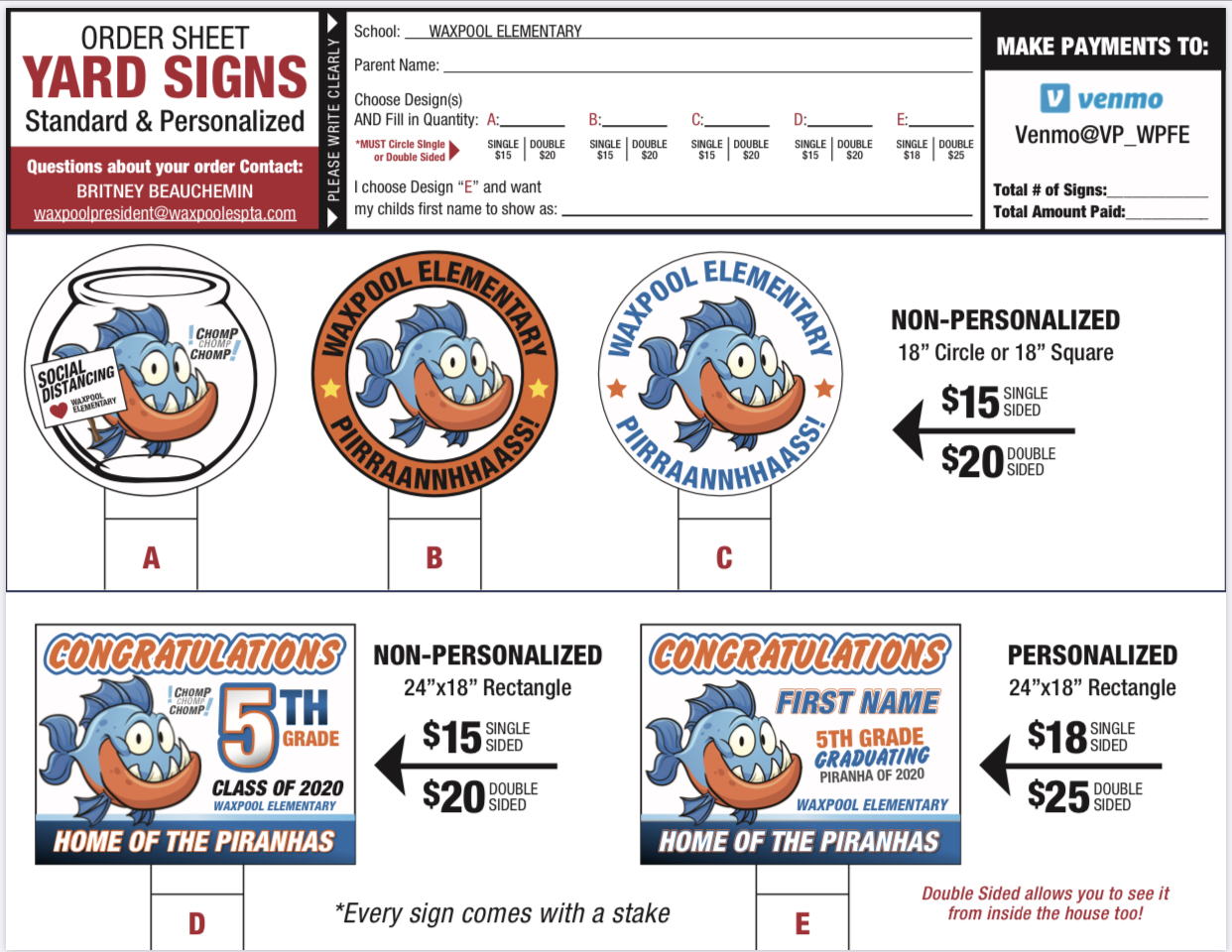 YOU CAN ORDER THROUGH STORE ON WEBSITE
OR
EMAIL COMPLETED FORM TO: WAXPOOLPRESIDENT@WAXPOOLESPTA.COM
PAYMENT CAN BE MADE ONLINE OR
VENMO@VP_WPFE
NO ORDERS WILL BE ACCEPTED WITHOUT PAYMENT
HELLO FAMILIES!! WE KNOW THIS IS A DIFFICULT TIME FOR EVERYONE BUT "W.E" WANTED TO SHARE WITH YOU THE ARTWORK THAT OUR PIRANHAS WORKED VERY HARD ON THROUGHOUT THE YEAR.
HERE IS A LINK FOR YOU TO PURCHASE CUSTOM KEEPSAKE PRODUCTS FEATURING YOUR CHILD'S ARTWORK. DON'T MISS OUT!!! THIS IS A YEAR "W.E" WILL NEVER FORGET
:)
IF YOU WOULD LIKE THE ONLINE CODE PLEASE EMAIL BRITNEY BEAUCHEMIN @ WAXPOOLPRESIDENT@WAXPOOLESPTA.COM.
ALL ORDERS WILL BE SHIPPED DIRECTLY TO YOUR HOME NOT WAXPOOL. IF YOU DON'T SEE YOUR CHILD'S NAME OR ARTWORK PLEASE CONTACT BRITNEY AS WELL FOR FURTHER INFORMATION.
THANK YOU, WAXPOOL PTA
https://arttoremember.com/school/vhg2j6
Help us raise money for our school!